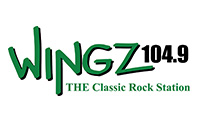 Playing the best classic rock in the Twin Tiers, WINGZ is home to the Bob and Tom Show in the morning, starting your day with news, sports, lifestyle content and interviews with today's top actors, authors and newsmakers.  Chris Gunn serves up 104 minutes of  commercial free classic rock daily and Team NASCAR Friday's with a chance to win cool prizes. Nights with VH1 Classic On Tap with Nick Carter features interviews, great classics from the VH1 archives and more!  Thursday Night Track Talk is your connection to the world of NASCAR.  
Name: THE Classic Rock Station
Call Letters: WINGZ
Dial Position: 104.9 FM
Coverage Area: WINGZ serves the Twin Tiers from Montour Falls
to Elmira; from Watkins Glen to Horseheads, from Gillette to Lawrenceville.
Address: 2205 College Ave. Elmira, NY 14903
Office Phone: 607-732-4400
Request Line: 607-767-9649
Station Contact:
Mark Boarman Market Manager mark_boarman@commbroadcasters.com